It's a public holiday today and I'm off from work. Since Edison is taking his afternoon nap now, I've decided to snap a few pictures of my house and share them on my blog.

Located in Sengkang, near the Punggol Park, this executive condominium is very windy and has a nice green scenery view. Our unit is located at the 7th floor, 1313 sq ft, 3+1 bedrooms. It's indeed a nice and cosy little house for our family. A place that we can really enjoy living in it.

The coolest part of our house is the beautiful landscape and pool view from our living hall. We can hear laughters of children swimming in the pool on Sunday mornings. If we are lucky, we can even catch pretty girls in bikini, sun-tanning beside the pool.
On a windy day, we can enjoy the cool gentle breeze from our living hall. This unit is unblocked and most of the time, it's so windy that we hardly turn on the fan. This is our most effective energy-conservation method. With the recent increase in the electricity tariff, we expect to pay ~$35 more every month on our utility bill (and no rebate!)

Our living hall, dining hall and kitchen.
-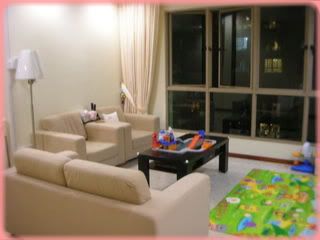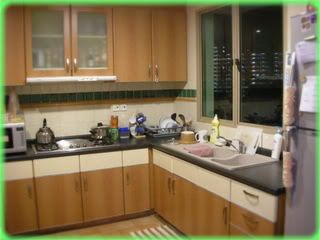 Now that we have a kid in the house, it's nearly impossible for us to keep our house neat and tidy all the times. Look under the sofa, you will find a toy car, a ball or even a baby biscuit! Edison's toys are all over the house. As much as possible, we try to keep it clean by doing major cleaning up every weekend. It has been much easier now with a helper at home.

And this is Edison, playing in the kitchen (again). I often wonder why he likes to wander around the kitchen even if he has the whole living hall to play by himself. His favourite is playing with my instant coffee sachets and baby cubes in the kitchen.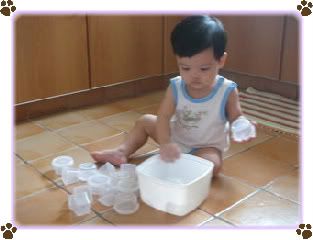 Okay, time to catch up with Edison in dreamland... Enjoy the holiday! --